Today's style is from
Curl Up and Dye
.
The Princess Leia Slave style is a perfect replica of Princess Leia's braid from the Jabba scenes in
Return of the Jedi
. It is a long braid that has been wrapped several times at the crown to form a braided bun and then falls down the back right side to the waist. The front of the style is pulled smoothly back into the crown with a few wisps of hair falling just in front of the ears. There is a separate helm with intricate design of leaves and berries that can be worn when you are feeling like Leia or not at all when you want to wear this braid for regular use. Having the Princess Leia hair I had to go all out and buy the Prim Couture Princess Leia costume to go with this. The entire ensemble is a Sci-Fi geek's best dream.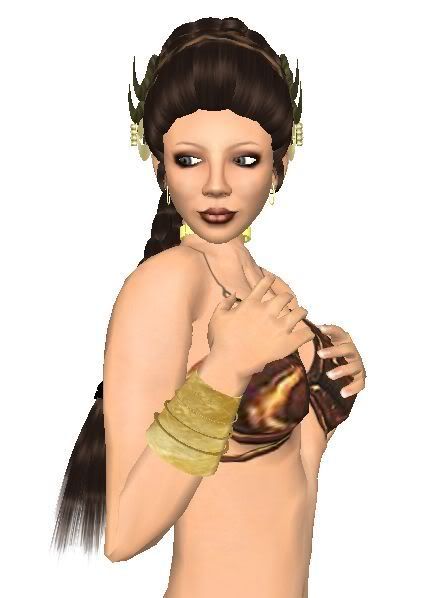 The Princess Leia Slave style costs $1500L for a fat pack, $300L per color and the demos are $1L. The colors included are: Black Shades(black, deep black, blue black, silver, white), Brown Shades(brown, brownred, red, ahsbrown), Red Shades(sunset, auburn, wine, wild orchid), Blonde Shades(blonde, platinum, ash blonde, sand, honey blonde), Anime Colors(blue, dk pink, green, pink, purple, bred).
Skin: Gala - Pale Sultry Lustrebeam, Clothes: Couture Prim - Princess Leia Costume