SiniStyle
has a large shop with clothing, hair, and accessories for both men and women. There is very nice collection of AV and AV accessories to make any horror themed party a blast from biting rats to Pumpkinhead. This shop also has a lucky chair with many items suited for guys.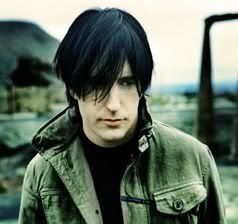 The Reznor style is a short, straight style that ends just past the neckline with softened layers at the tips. The front of the hair is parted left of center with long framing pieces crossing the right eye to touch the cheekbone. The rest of the face is framed with an angled bang that tapers outwards to the jawline. As you can see this style is an excellent replica of Trent Reznor's style. Although not shown, this style works well for women too.
The Reznor style costs $150L per color, $700L for the 14-color fat pack, and the demos are $1L. The colors include: midnight, shadow, dusk, wolfsbane, drab, rage, rust, raven, cobal, clockwork, skank, flux, sunlight, and full moon.
Skin: EM Natural Men/Facial "4", Clothes: SYD - Han Solo Crew Neck