Lucky!
is a new hair shop from designer, Rikka Koi. Although she has been in the game over a year now, she has recently decided to share with the buying public the hair styles she has been creating for the last few months. There are hairstyles for both men and women at this shop with the gothy feel to it. There is also a lucky chair with a cute style not for sale at the shop so get your camping gear ready.
The Aedra style is a long, straight style that falls to the small of the back wtih two funky ponytails on either side of the crown. The ponies have spiked chunks that are pulled back and up from their position on the crown. The bangs line just above the brow with razored-fringe edges. Long framing pieces fall down the side of the face in front of the ears to end just past this jawline. This is a fun and funky style that would go well with an outfit from Ravenwear.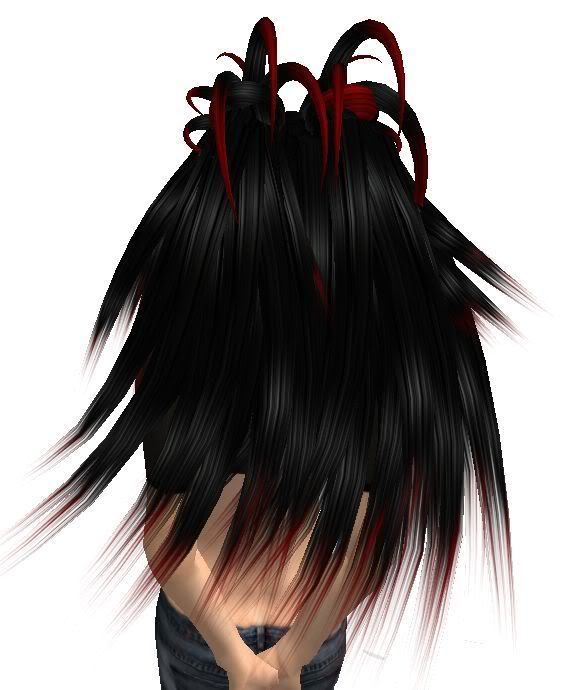 The Aedra style costs $150L per 2-color packs, $500L for 5-colors packs, $2000L for the fat pack, and the demos are $1L. The colors include: black, black burgundy tipped, auburn, auburn burnt, dark brown, chocolate, brunette, brunette frost, natural deep red, orangy red, natural honey blonde, dirty blonde, platinum blonde, platinum burnt, silver, silver burnt, black frost, black pink tipped, black purple tipped, blonde blue, blonde burnt, blonde pink tipped, blonde pink, blue, greenie, pink, pink burnt, purple.
Skin: Gala - Pale Sultry Lustrebeam, Clothes: SYD - Fiery Fairy Shorty, TorridWear - Worn Out Capris