Mirada
is one of the anchor shops for Hairspray Island. This shop, from the mother of prim hair, features styles for almost anyone's budget. There is a lucky chair with hair as well as clothing and animation accessories. Although the ads show woman, many of the styles are unisex and would work well for a man.
The Odango style is two sculpted semi-buns with the hair falling down into a single bun at the base of the neckline. From the single bun the hair falls straight down to the small of the back in a ponytail. The face is framed with four small, wispy ponytails that are held in place with black bands. The texture is soft-looking with a nice sheen to it.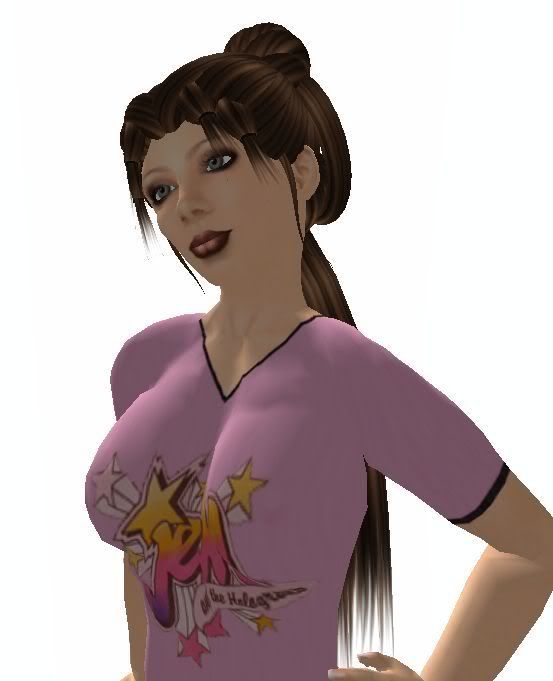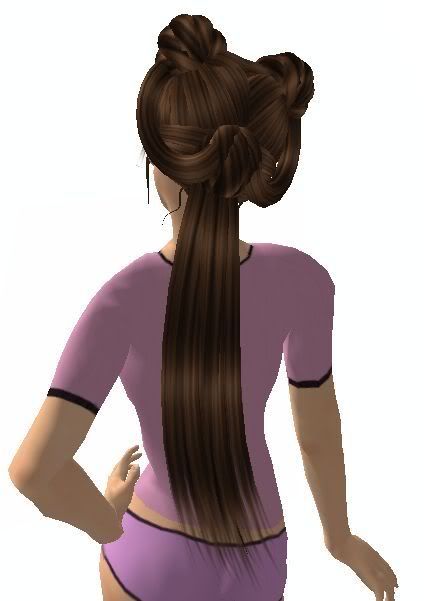 The Odango style costs $1500L for a fat pack, $250L for a 3-color pack, and the demos are $1L. The colors include: whites(snow white, pearl, cream), blondes(platinum, light blonde, blonde), dark blondes(golden blonde, faded blonde, dark blonde), strawberries(strawberry blonde, reddish brown, dark strawberry blonde), golds(orange, light golden brown, golden), browns(light brown, faded brown, brown), dark browns(dark olive, dark golden brown, dark brown), golden browns(light cocoa, golden brown, cocoa), auburns(fiery red, dark auburn, auburn), almost blacks(dark wine, blue ash, blackish brown), grays(silver, off black, charcoal), blacks(jet black, black, almost black), traffic light(yellow, red, green), wild berries(violet, fuchsia, blue), cotton candy(teal candy, pink candy, blue candy).
Skin: Gala - Pale Sultry Lustrebeam, Clothes: SYD - Jem Set