Tangles!
is a brand new hair store with a very familiar feel. *winks* Okay, so she could not stay away for very long. Sarabi missed all the hair-love we give her. I was torn what to review because I noticed a style that happens to be my namesake. However, I thought it would be best to review her new freebie called Hope.
The Hope style is a loosely held ponytail that falls from the crown of the head to the middle of the back. The face is frame with long, angled chunks that taper gradually to the jawline and then fall down the front of the shoulders. The texture on this teal texture is well down with soft highlights. This hairstyle is too cute to pass up considering the price tag, free.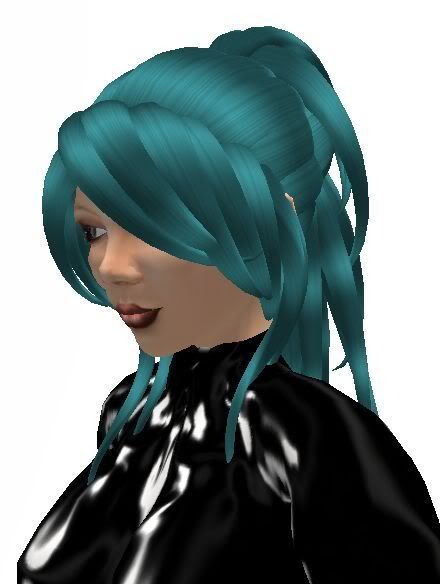 The Hope style comes in a single menu driven wig that costs L$50 and the demos are free. The menu system works with 12 base textures (black, blonde, blue, brown, gray, green, orange, pink, red, violet, white and yellow) with 66 different tints to create 729 hair shades to select from the menu.
Skin: Gala - Pale Sultry Lustrebeam, Clothes: Kcreations - Basic Black Catsuit